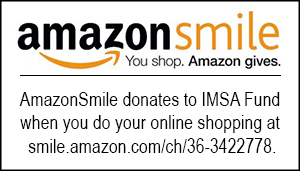 Your Gift Makes a Difference to the World!
Gifts of any size to IMSA's Annual Fund have a big impact. You'll be helping to enhance STEM education not just at IMSA, but throughout Illinois and the world, including support of students from rural, low-income and underrepresented backgrounds; student research, student entrepreneurship; faculty training and development; hands-on STEM curriculum for teachers; activities for IMSA alumni and parents; state-of-the-art science and lab equipment; global travel for student and faculty conference presentations and scholarships.  Thanks to your generosity, here are some of our stories:
"Attending the International Student Science Fair in Singapore gave me a great opportunity to articulate and present complex scientific research work to broad section of students and faculty from different backgrounds on a world stage. I learned about different cultures, to appreciate their values, their school systems, their academic lives and their higher education system. I learned how to interact, create and cultivate relationship with conference peers who came from diverse academic systems, career goals and cultural interests."  – Shruti Shakthivel, Class of 2020
"I gave multiple presentations at the National Consortium of Specialized STEM Schools Conference in Houston this year. As a result, I was able to interact with other educators and learn from their experiences.  I was able to incorporate their valuable feedback into my classes the next semester. I was also able to share my teaching ideas such as the heart model project through my  presentation. Overall, I gained several insights in teaching by participating and presenting at the conference."   – Dr. Sowmya Anjur, IMSA Science Faculty
"Due to a generous award by the IMSA Fund, the IMSA Center for Teaching and Learning launched the Teaching Channel® to provide professional learning experiences for teachers through content and pedagogical professional development courses and on demand video resources."  – Angela Rowley, Director of Statewide Educator Initiatives
"The IMSA Fund gave 16 underrepresented students from economically disadvantaged Illinois high schools the opportunity to participate in our summer program designed to spark and encourage interest in STEM. We believe that academic enrichment programming like this can help address the challenges of these students and help them persist with their interest in following a STEM college and career path." – Gwen Seeley-Joosse, Director of Statewide Student Initiatives
The IMSA Fund for Advancement of Education is a 501 (c)3 not-for-profit corporation.  and IMSA Fund operations including donor cultivation and recognition. Gifts to the IMSA Fund are tax deductible to the extent permitted by law. Our Tax Identification Number is #36-3422778.
Questions? Contact giving@imsa.edu
---