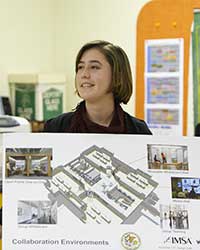 IMSA held a groundbreaking for the state-of-the-art renovation of its science laboratories and IN2 Steve and Jamie Chen Center for Innovation & Inquiry the evening of Tuesday, February 23, taking the next step in becoming a global leader and catalyst in equity and excellence in STEM teaching and learning, innovation and entrepreneurship. IN2 will be Illinois' first innovation and entrepreneurship center housed in a K-12 setting, and the renovated science laboratories will offer fully collaborative spaces that will enable the Academy to achieve its vision as a learning laboratory and serve as an Illinois and national education model.
The groundbreaking event, to be followed by a "Breaking New Ground" capital campaign, brought together hundreds of Illinois students, alumni, educators, entrepreneurs, government officials and business leaders, including leadership donors to both projects. The event featured speeches by IMSA Board of Trustees Chairman Sheila MB Griffin, IMSA Fund for Advancement of Education President Dr. Ross Hemphill, and IMSA President Dr. José Torres, as well as a virtual visit from YouTube co-founder, $1 million IN2 donor and alumnus Steve Chen. Illinois State Senator Linda Holmes and State Representatives Linda Chapa LaVia, Mike Fortner and Keith Wheeler were also present.
"We are paving IMSA's future with these facilities… designed to provide the opportunities for our educators to prepare our students for a future that we can scarcely imagine, but which they will help design and create," Dr. Torres said at the groundbreaking event. "We are building our future – that's what the state expects of us, and that's what our amazing students and faculty deserve."
IMSA students were a cornerstone of the event, just as they have been a major part of the process of conceptualizing IMSA's new collaborative innovation spaces. They will be a critical part of the success of the IN2 innovation center and renovated laboratories. At the ceremony, seniors Heidi Dong of Dunlap, Tavis Reed of Oswego, Cristal Quinones of West Chicago, Faithe Hill of Oak Park and Nick Rodriguez of Barrington presented their excitement for the new facilities in Twitter-style 140 character sentiments. An IN2 team of students spent three weeks designing and constructing a Rube Goldberg groundbreaking device, which started virtually with Steve Chen tipping over dominoes and culminated in a shovel launching confetti on the auditorium stage.
After the ceremony, the Student Committee for IMSA Advancement (SCIA) gave tours to the hundreds of attendees, showing them where the new spaces will be, what they will look like and all of the opportunities they will provide at the Academy. Example demonstrations included Addison Herr of Naperville's virtual reality tour of the new IN2 space and engineering students showing of the wooden bridges they designed in class.
The science lab renovation project and IN2 will work in tandem to allow IMSA students to learn through inquiry-based education focused on critical global challenges, such as cancer, clean water resourcing and utilization of big data, and help students translate that knowledge into new ideas, research, prototypes and products. IN2 will be a 6,400 square foot innovation center designed to ignite collaboration and entrepreneurial activity among students, educators, business and the community to solve real-world problems to advance the human condition.
These two initiatives are solid examples of the strength of public-private partnership and the changes and advancements they can have on education. They are built with funds from the State of Illinois, corporate and foundation contributors and individual donors. With construction funding of $6.6 million secured, IMSA is in the process of raising an additional $1,050,000 to furnish and equip the new spaces. Forty-five private donors, including 22 initial leadership gifts of $10,000 or more, have already contributed to making these projects a reality by pledging nearly two-thirds of the remaining goal. A list of donors, additional description of these projects and information about how to be part of the Breaking New Ground campaign can be found here.