Please check in on the LiveSafe app before coming to campus.
---
May 28, 2021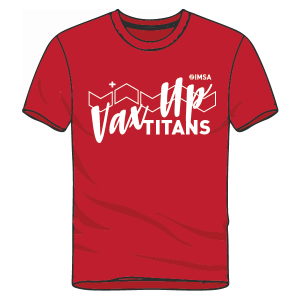 SAVE THE DATE!
Vax Up Titans! IMSA is excited to announce a vaccine clinic specifically for students who will be on campus this fall, including the Classes of '22, '23 and '24. Students can choose to attend one of three dates for a Pfizer first dose clinic:
June 14th @IMSA's Main Academic Building
June 25th @IMSA's Main Academic Building
July 15th @IMSA's Main Academic Building
Students who become fully vaccinated will receive a Vax Up Titans T-Shirt.
These vaccinations are optional, and we recognize and respect each family's decision regarding the vaccination of their student for COVID-19. In addition, we recognize that coming to the Academy on these dates may not be convenient for everyone. We hope that you still choose to get vaccinated in your local areas.
More details coming soon!
---
May 18, 2021
Dear IMSA Community,
On May 13, 2021, the CDC issued new guidance stating that those who are fully vaccinated can resume activities without wearing a mask or social distancing. Importantly, the CDC's announcement indicates exceptions to this recommendation where required by federal, state and local rules and regulations, businesses and organizations. As an employer, IMSA falls within the exceptions.
We understand that this new information may be confusing to our community. To help clarify, we want to remind you that face masks are still required for all students, faculty, staff, and visitors while on campus at IMSA regardless of vaccination status, with limited exceptions outlined below. Many members of our community have been vaccinated, but some still have not been, so it is important that we continue to take precautions.
Consistently wearing a face mask has been proven to be one of the most effective ways of preventing the spread of COVID-19 (along with physical distancing and hand washing).
Face masks must be worn in all locations on the IMSA campus, both indoors and out, with the following exceptions only:
If you are outdoors walking, sitting, or exercising by yourself in low-traffic areas where the risk of being near people is low.
In a private office when working alone, or in your own residence hall room.
When eating while practicing physical distancing.
As a reminder, please continue to check in on the LiveSafe app before coming to campus: https://livesafe.jotform.com/20292612503585
The conditions of the COVID-19 pandemic and guidance surrounding it continues to change rapidly. We are watchful of new information and will continue to evaluate and update policies and protocols to ensure the health and safety of our community as necessary.
Stay well,
IMSA Cabinet
---
Questions about Repopulation
At the PAC meeting over the weekend, several parents alerted us to the fact that updates were not being released to the Return to Learn Q&A document. This was an error that has now been addressed. New responses have been added today and more will be shared before the end of the week.
---
We are united as One IMSA caring for others with One Heart.
---
Resources