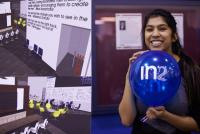 The IMSA Innovation Hub now has a name: IN2, the Steve and Jamie Chen Center for Innovation & Inquiry. Working with corporate partner, Limered Studio, IMSA stakeholders participated in four workshops last fall with the name unveiling held on January 21.
The name comes from the two "INs" of INnovation and INquiry, words that came up repeatedly when IMSA and the hub were described. The IMSA community and guests celebrated at a midday reveal event, complete with a balloon drop, renderings, cupcakes and IN2 Intersession work by 17 IMSA students. If you'd like to follow the progress of IN2, join us on our social media channels:
How about a virtual tour? Click HERE to check out our new YouTube video. Special thank you to IMSA Student Council president, Vinesh Kannan for narration and to Evan Sun for help with the SketchUp 3D video.