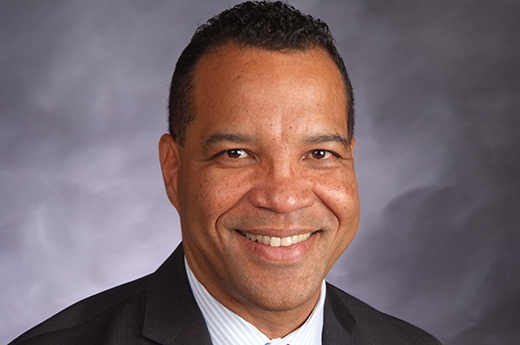 Dr.
José
M. Torres was named
IMSA
President in the summer of 2014. Before coming to
IMSA
, Dr.
Torres
led the second largest school district in the
state,
Elgin School District U-46, through economic challenges—mainly due to the state's budget crisis—yet he also has implemented many new initiatives to improve student learning.
In partnership with the Board of Education and U-46 staff, Dr. Torres developed Destination 2015, the district's five-year accountability plan that includes benchmarks and targets to help U-46's more than 40,000 students achieve academic success.
Other accomplishments include increasing the numbers of Advanced Placement (AP) courses, the students taking the courses, and the students taking the AP tests; establishing the AVID program at all middle and high schools to help students become prepared for college; increasing the rigor of courses in middle schools (e.g. adding world languages); working with the Elgin Area Chamber of Commerce and business leaders to increase the number of high school students earning the National Career Readiness Certificate; expanding the Dual Language program for elementary school students; supporting teachers through the Teacher Effectiveness Initiatives department; increasing family and community engagement; creating new parent leadership programs for minority parents; and focusing on dropout prevention and eliminating the achievement gap. During his tenure, Dr. Torres launched the Superintendent's Scholarship and personally committed funds to the program which awards $1,000 scholarships to students who are the first in their family to attend college or trade school.
From February 2011 through 2013, Dr. Torres served as the only superintendent on the federal Equity and Excellence Commission of the United States Department of Education. As part of the commission's final report, Dr. Torres provided recommendations on closing the achievement gap for English Language Learners.
Dr. Torres was named a recipient of the 2014 Dr.
Effie
H. Jones Humanitarian Award by
AASA
, the School Superintendent's Association, and was one of three educators from across the nation to receive the award. This prestigious award honors leadership in educational equity and excellence and was named after the late
Effie
Hall Jones, an educator and
AASA
associate executive director, and a champion of women and minorities in educational leadership.
Prior to joining U-46, Dr. Torres served as a Regional Superintendent in the Chicago Public Schools. Before coming to Illinois, he had served in school districts in San Jose, CA; Anne Arundel, Baltimore, and Rockville, MD; Washington, D.C. and at U.S. Department of Defense schools.
Dr. Torres holds a Bachelor of General Studies, a Master of Education and a Doctor of Philosophy in Educational Administration from the University of Maryland.
Links to News Stories Announcing Dr. Torres As IMSA President:
The Elgin Courier News – New president looks to increase student access to IMSA
Torres points to past achievements as he moves on to new challenge
The Aurora Daily Herald – U-46's Torres headed to Illinois Math and Science Academy
U-46's Torres excited about IMSA's vision
The Lawndale News – Distinguished Education Leader Selected as IMSA's Fourth President
Catalyst Chicago: Comings and Goings: Torres
Other Mentions: ABC-7 Chicago, Reflejos
Links to Dr. Torres' Awards and Initiatives
2014 Dr. Effie H. Jones Humanitarian Award
Serving on the Federal Equity and Excellence Commission
Superintendent Scholarship Program